Search Options Trading Mastery:
Become a Master Chartist or Crypto Investor With the IM Academy
The IM Academy is an excellent resource for anyone who wants to deepen their understanding of technical analysis of price charts, or become a longer term non-leveraged investor in crypto currencies.
So whether you're into options trading, forex trading, or the new kid on the block - cryptos, the IM Academy may well make a huge difference to your financial success.
The IM Academy is also your gateway to free membership of some very successful live trader chat groups that are led by some of the most successful and wealthy traders. Daily Zoom calls with some these traders are included in the DCX package. These top traders are paid a portion of member fees from the IM Academy, to make it worth their time.
There are a few different modules within the IM Academy's so a trader should choose wisely when joining. Here's a summary of what they contain:
FRX - this academy is specifically about forex trading.
DCX - this is where you'll gain in-depth knowledge about crypto currencies, or "digital currencies" (hence, the "DC").
HFX -  if you want to learn more about high frequency day trading, this is the module.
ECX - not so relevant for traders but it's here just to complete the set. The ECX academy is all about training in e-commerce, i.e. how to make money by selling things on the internet.
If, upon joining, you opt for the DCX package, you will also receive access to the training within the FRX package, as the technical analysis concepts are similar.
But the DCX package comes with access to the cryptocurrency chat and daily live training groups. You also get an additional feature, called Swipecoin, which we'll discuss shortly.
Elite - this level of membership gives you access to all the above education programs in the IM Academy.
Crypto Kings Mentoring Group
Those who take the DCX package with the IM Academy also earn the privilege of joining the Crypto Kings trading group. This is where the real value lies. There is no cost to join - it is covered under your IM Academy membership.
This group is led by seven-figure traders (that's over $1million per annum) who have made their fortune from trading and investing in cryptocurrencies.
You cannot join the Crypto Kings group unless you are first a member of the IM Academy and can provide them your member number.
You will also need to get a free Telegram Messenger account in order to access their group chat and Zoom meeting alerts. Under their "Getting Started" heading on the Crypto Kings website, they provide you with links to their Telegram chat groups.
You will need to include your IM Academy member number in your Telegram profile, or they will boot you off.
At the time of writing, there are over 1,000 members in the three Crypto Kings Telegram groups. There, you'll receive regular signals sent by the pro-traders, plus invitations to daily Zoom calls where various cryptocurrency trading and investing opportunities are discussed. You'll also learn live charting techniques from the master traders there.
But there's more . . . Crypto Kings members receive exclusive offers to invest in ICO's. What's an ICO, you say? Well, you may have heard of IPO's - intial public offerings when companies "go public". An ICO is a similar concept - initial COIN offering.
Some of these new crypto coins go ballistic, within a few months after release - making investors up to 100 times their original investment. 
All this comes with your IM Academy membership.
If you use the link provided here, you'll receive a $49.95 USD discount off your membership. You'll also be emailed specific instructions about how to make the most of your IM Academy membership after joining. Once you've joined, drop down the menu (3 horizontal lines) to access your area of interest.
In addition, you'll be given contact details of a Crypto King member  who will personally answer your questions via Telegram chat and help you to get started.
Not only that, but if you refer just two other people (for example, via your favorite social media) using the link provided in your membership area, then your future monthly IM Academy Membership fees will be FREE of charge.
So if you like the idea of being part of an interactive trading community that helps and educates one another on a daily basis, joining the IM Academy and then applying for membership in this closed group (join link will be provided) may very well change your entire trading experience.
The Power of Swipecoin and DCX
Swipecoin is a scalping algorithm that provides digital currency (crypto) traders with daily alerts for long and short opportunities on various crypto currencies. You might be surprised to learn that these days, there are a lot more crypto currencies available for trading than Bitcoin, Litecoin, Ethereum or Ripple. 

In fact, there are now a growing number of what they call alt-coins. These are relatively new cryptocurrencies when compared to such as Bitcoin and Ethereum, which have now been around for some time.
The Swipecoin app (also available via your web browser) was developed by a very successful crypto trader who calls himself "Crypto Picasso". Within the Swipecoin member area, he provides two types of short-term buy/sell signals - the "original" and the "smooth". The "smooth" version is where you'll find his comments regarding upcoming trading opportunities.
The Power of Harmonics Patterns
This is one Swipecoin feature that I really like. The Swipecoin app searches through a list of crypto currencies and identifies "harmonics patterns" on their charts, at various time frames, to provide further trading opportunities.

Below, is an image that shows and example of Swipecoin scalping signals for Bitcoin.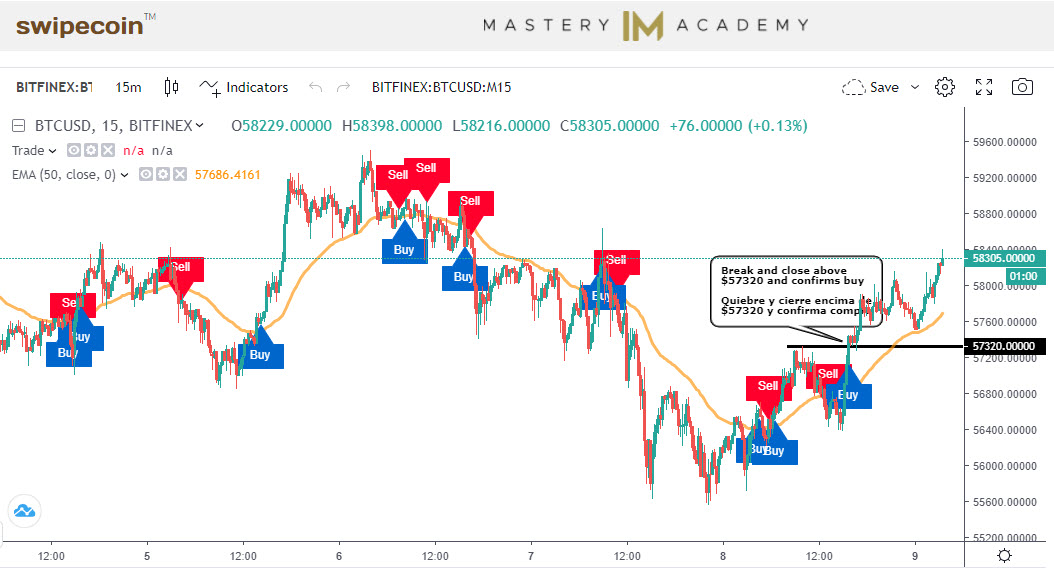 But if the trader clicks on the Hs icon at bottom left of the screen, you are taken to the harmonics area. Perhaps you have heard of "Gartley Patterns"? They are one form of what technical analysts call "harmonics".
Below, is an image that shows the type of harmonics alerts that traders can expect to receive. This one is on a 15 minute chart of an alt-coin with the code TRXUSDT. You would of course, need to add your own analysis to the alert in order to satisfy yourself that this is a good trading opportunity. In this case, the pattern is indicating a short trade, with stops and profit targets included.
Using a reliable and free charting facility such as TradingView on larger time frames to plot trend lines plus support and resistance areas, to provide confirmation, would be appropriate here.
Then if satisfied, you might place the trade with a reputable crypto broker such as Binance.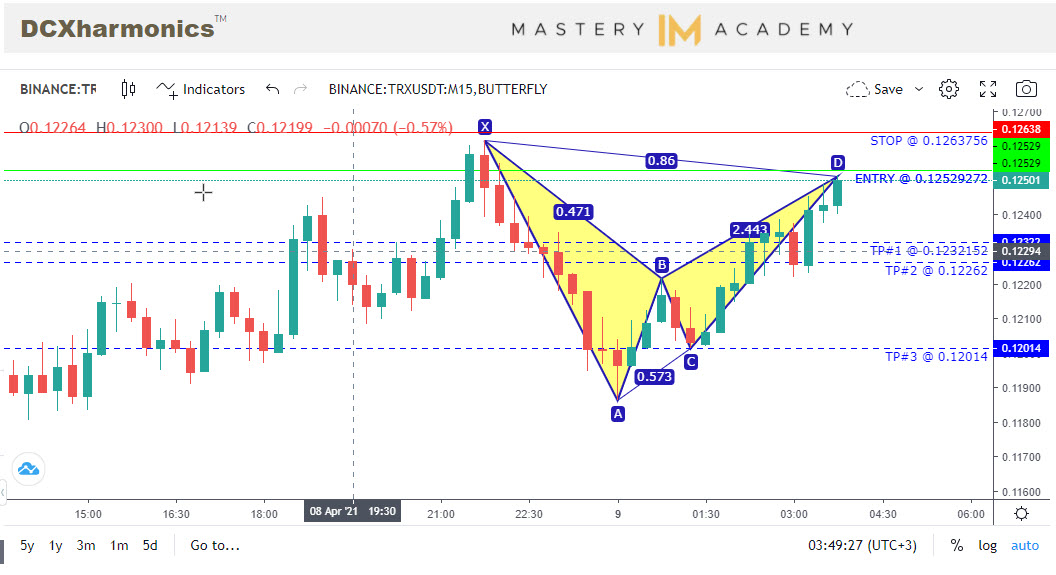 Then There's My Swipecoin
Once you're a member of the IM Academy DCX package, you use the same login info to access the Swipecoin Mastery Academy.
At MySwipecoin you receive trading ideas together with reported results, from professional leaders. You also get access to chat groups and webinars with very successful traders.
MySwipecoin includes an app that you download to your cell (mobile) phone. This app sends signals for potential trading opportunities.
You can also access the abovementioned Swipecoin scalper and harmonics signals via MySwipecoin.
Not Everyone Wants to Be a Trader - So Be a Crypto INVESTOR Instead
One of the most profitable and exciting features of being a member of Crypto Kings is, that they provide recommendations for new crypto currencies to invest in. I personally know someone who has made over $100k just from investing a few grand here and there.
Someone in the group managed to invest $500 on a new alt-coin and within a couple of months, she made $110k profit. Now that would be life-changing for many.
These guys know what they're doing. Their research is sound.  In their own way, they're changing the world for many people.
So if you love your day job and would just like to have someone who provides well-researched advice on which alt-coins to buy and how and when, then you'll receive all this after you've joined the IM Academy and then receive info about how to join Crypto Kings.
The IM Academy Training Center
Your IM Academy membership gives you access to some of the top forex and crypto traders in the world.
Once you're a member, you access these training modules via their GoLive website, using the same Username and Password that you chose for your IM Academy membership.
Once there, you choose the academy that's relevant to the package you chose. If you selected the DCX package, you also get the FRX (forex training) educators.
Search for Mannyy Quinones - he is an excellent educator who had made hundreds of thousands trading the forex markets. Start with his "Beginners Bootcamp" series and you'll be amazed at what you might learn.
The DCX training also has its own compilation of educators. This is where you'll find Crypto Picasso.
So in summing up, if you really want to deepen your knowledge and hone your skills for analyzing price charts and trading the financial markets, the IM Academy is your one-stop place to learn and grow.
If you're looking for a mentoring group where trading signals and ideas are shared and where everyone helps each other, the IM Academy is for you.
If you're looking for direct access to some of the most successful traders on the planet, the IM Academy is for you.
The membership is a monthly fee, but you can cancel anytime. If you refer two other members to the IM Academy, then your monthly subscription becomes free.